Literary Rambles with Steve Luxton
Poet in Residence - Lennoxville Library,
Sherbrooke, Quebec
Oct 4, 2021
POET D.G. JONES
"For the mind in time is a perishing bird, It sings and is still." That's from "The Perishing Bird," a poem by Douglas Gordon Jones, in which he likens human thought to an ecosystem that contains birds, bees and butterflies. The poem can be found in The Essential D.G. Jones, published in September 2016, some six months after he died. It was the last of his 12 books of poetry. Jones was one of Canada's great lyric poets, and he's ours - a Townshipper who lived in North Hatley and taught at both Bishop's University and the Université de Sherbrooke. He also co-founded the bilingual literary journal, Ellipse, the only literary periodical in Canada to offer reciprocal translations of both English and French Canadian poetry. He received two Governor General's Awards, one in 1978 for poetry and one in 1993 for translation. A "literary ramble" at the D.G. Jones Writing Cabin, 120 Houghton Street, is on Sunday, September 26, at 4 p.m., with the kind permission of his widow, Monique Baril-Jones. Leading the visit was Steve Luxton, poet in residence at the Lennoxville Library.

Sep 10, 2021
BURY LITERARY RAMBLE
"She bites into the red skin / Of the white hard apple in bed / And there is joy in heaven," wrote poet Ralph Gustafson. He was born in Lime Ridge (Dudswell) in 1909, and had a prolific writing career of 60 years that included editing the influential Penguin Book of Canadian Verse. He received a Governor General's Award in 1974 and was appointed to the Order of Canada in 1992.
Sunday, August 22, 2021
Louis Dudek Summer House
715 Madore Road, Barnston West in Way's Mills, Quebec.
Stories about and poetry of Louis Dudek,
Poet, Professor & Publisher; (1918 - 2001)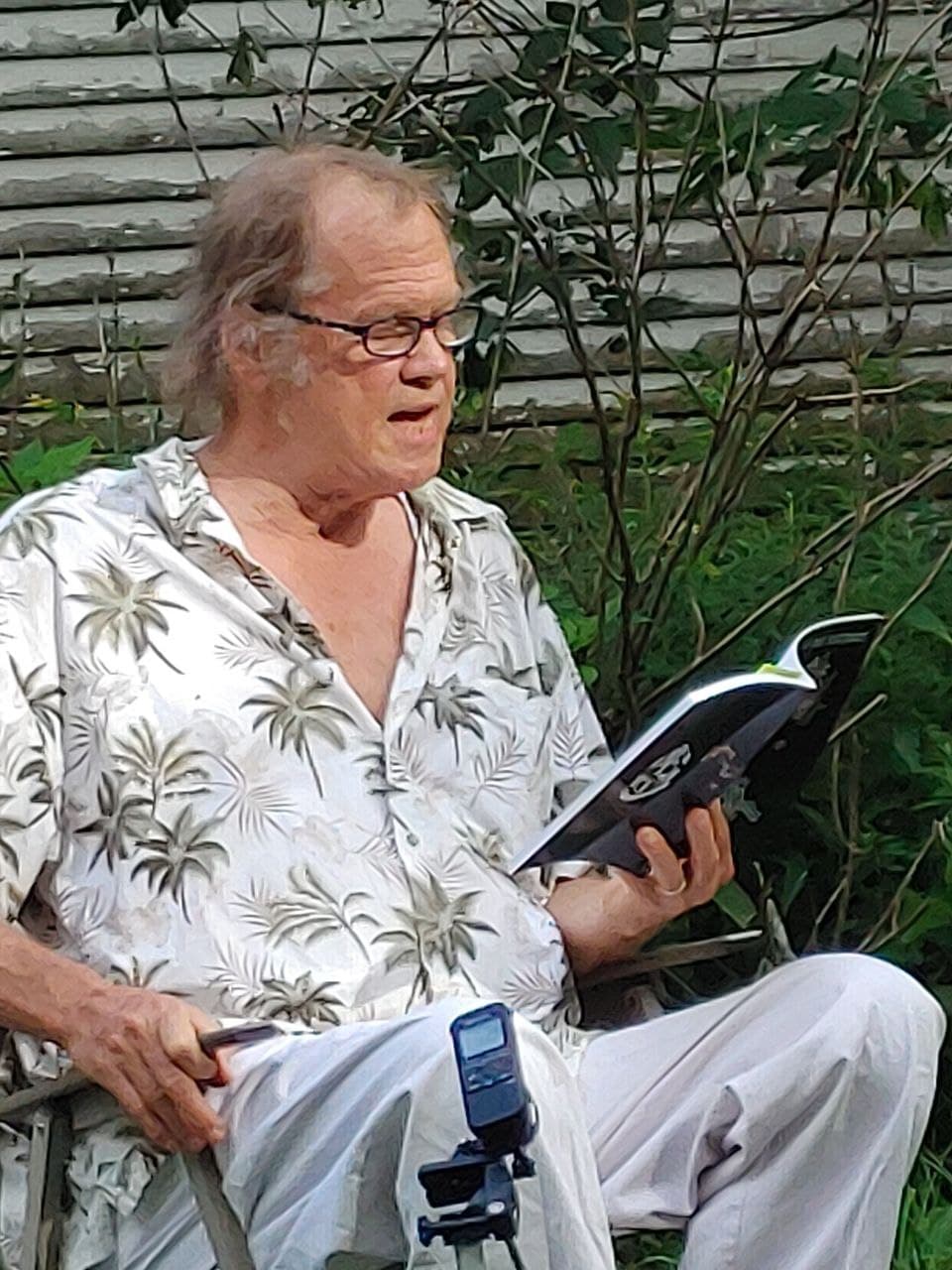 Steve Luxton reads - Poetry by Louis Dudek:
The Poet in Old Age
And So We Have Arrived
As Language
Early Morning
For You, You
Early Morning

Poetry by himself:
Old Guy
Starting to Get Old
"Elegy"
8 August 2021
Literary Rambles with Steve Luxton, Poet in Residence of the Lennoxville Library, in the Hatley Cemetery, Hatley Village, QC. August 8, 2021. About... "Elegy Written in a Country Churchyard" by Thomas Gray, 1751. And... "After Reading Thomas Grey's Great Elegy," by Steve Luxton, 2021.